WMI promotes highway safety with new "I Brake for Migration" bumper stickers
Promote highway safety by ordering a bumper sticker today – FREE!
Interested in ordering more than nine stickers? Please use our large order form instead.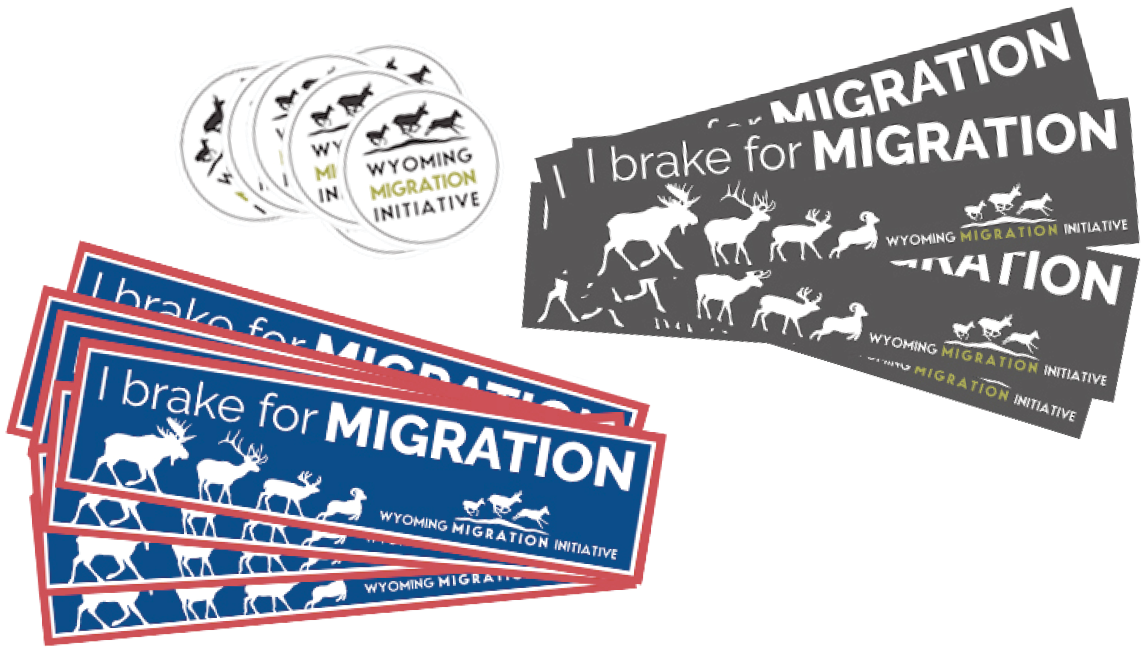 "I brake for migration" stickers remind motorists that migratory big game animals cross Wyoming's highways as well as our mountains and plains. By counting dibs on your sticker using the form at left, you can help remind drivers to be mindful of slowing down for wildlife on the road.
This is an ongoing challenge in Wyoming. The numbers are shocking: According to the Wyoming Department of Transportation (WYDOT), about 6,000 animals are killed on Wyoming highways each year, and that likely undercounts the total number.
Not braking for wildlife can be deadly. From 2012-2016, 17 people died from colliding with wildlife, and WYDOT removed more than 23,000 animal carcasses from state roads and highways. To look at it another way, one of every 15 human fatalities from car crashes in Wyoming in 2016 was related to hitting wildlife.
According to annual statistics compiled by State Farm Insurance, Wyoming is among the top-ten states for frequency of wildlife collisions. We ranked number eight in 2016, with every driver in the state having one in 85 odds of submitting an insurance claim related to hitting a big game animal.
The costs of these collisions add up. According to a 2019 Wyoming Wildlife article by Christine Peterson, "Deer collisions alone between 2013 and 2015 amounted to almost $30 million in injuries and damage to vehicles, not to mention an additional $20 million to $23 million in wildlife costs lost to the state." That's $50 million per year in unnecessary property damage and lost wildlife.
When we brake for migration, it can be a lifesaver. Research conducted by WMI, Wyoming Game and Fish, WYDOT, and many other collaborators has helped us better understand where and why these collisions are likely to occur, and how to avoid them. The principal thing drivers can do to avoid hitting a big game animal is to slow down. As we drive through the state, we can also be aware of when and where we are most likely to see wildlife on or near roads. In their release of the 2016 stats, State Farm notes that the months of highest collision rates are, in order, November, October, and December – i.e., during the autumn migration.
Habitat can be a clue, too. WYDOT notes vehicle-wildlife collision hot spots occur in riparian zones. Because the state's highways often follow streams and rivers, which can be valuable winter habitat for ungulates, these are areas to drive through with caution. State Farm's data highlights the risk migratory ungulates face in using these valuable riparian areas for winter range and migration.
We have also learned that there are numerous "pinch points" or bottlenecks where migrating wildlife are compelled to cross highways and interstates. WYDOT, Wyoming Game and Fish, WMI researchers and many other entities are collaborating to identify these bottlenecks. At a summit held in Pinedale in 2017, managers met to discuss potential solutions, like installing or modifying underpasses and overpasses that allow migrating deer, pronghorn, and other animals, to avoid interacting with the roads at all. Lowered speed limits in these areas can also help drivers avoid hitting wildlife. The Wyoming Wildlife Roadways Initiative Implementation Team (WWRIT) is now moving this work forward.
So, next time you are in migration country (most of Wyoming), we hope you'll use our sticker to remind fellow drivers to "brake for migration" and migratory ungulates. That way we'll all have more time to spot Wyoming's wildlife, while helping ensure there will be animals for future generations to enjoy.
Further reading:
Wanna do more than a bumper sticker?
Consider donating to the Wyoming Migration Initiative: