Migration Photos
& Videos
MY WILD LAND
A three-film series about three ranches and three inspiring stories of commitment to stewarding western heritage and wildlife, come hell or high water. Presented by Muley Fanatic Foundation with support from Maven Optics.
BARRIERS | Animals are struggling to migrate, but people can help
Mule deer, elk and other hooved mammals around the world depend on their ability to migrate between seasonal habitats. Sadly, human activities are impeding migrations and making them harder than ever. Many herds are struggling to migrate in the face of subdivisions, roads, fences, and all kinds of development. Yet, thanks to migration science and maps, we live in a hopeful time for conservation when more and more people are working together to find solutions to all these threats. Efforts like fence modifications, wildlife-road crossings, and conservation easements all make a difference.
Filled with incredible wildlife footage — some never-before-seen — BARRIERS captures the many challenges migrating big game animals encounter on their journeys, and the collaborative solutions that can keep migrations intact long into the future. You can read more about the film here, and view it YouTube, Facebook, Instagram, and Vimeo.
BARRIERS was produced by the Wyoming Migration Initiative at the University of Wyoming with support from Rocky Mountain Elk Foundation, Knobloch Family Foundation, and George B. Storer Foundation. The Muley Fanatic Foundation Southeast Wyoming Chapter provided cameras to capture some of the amazing footage of big game interactions with fences.
400 MILES TO CROSS: THE INTERSTATE 80 WILDLIFE BARRIER
It is hard to wrap your head around the big wildlife barrier that cuts across the southern part of Wyoming, but a new WMI investigative film released online helps the public see it with fresh eyes.
The 12-minute film, "400 Miles to Cross: The I-80 Wildlife Barrier," is available on Facebook, YouTube, and www.muleyfanatic.org. It shows that Interstate 80 is an almost impenetrable obstacle to movement of pronghorn, mule deer and elk. The highway has severed or truncated migration corridors originating as much as 150 miles away. The film also makes clear that Wyoming and other Western states have the science and the tools necessary to fix this problem. The investigation is narrated by Gregory Nickerson, a writer and filmmaker with WMI. In 2019, he set out looking for answers to how the road affects big game herds, and interviewed many experts who have been on the front lines of this issue for decades.
DEER 255'S MIGRATION ANIMATION
Our cartography team at the University of Oregon InfoGraphics Lab has created 3D visualizations to show the challenges of that Deer 255 faces in her migration, and how people have acted to conserve the Red Desert to Hoback migration corridor. You can view the her spring 2019 video here, on Facebook, or on YouTube.
Deer 255's fall 2019 migration was animated by the University of Oregon InfoGraphics Lab, and that video is also available here, on Facebook, Twitter, or YouTube.
ON THE ELK TRAIL: A MIGRATION MINISERIES
In 2018 WMI's Gregory Nickerson and Travis Zaffarano captured the entire fall migration of an elk herd in the Greater Yellowstone Ecosystem of western Wyoming. Watch the entire miniseries as a single video here or on Youtube, or share episodes from our Facebook page.
Mapping Mule Deer Corridors in Yellowstone — Winter 2016
Back in 2016, the migration routes of mule deer across eastern Greater Yellowstone have never been mapped in detail. In this video Wyoming Migration Initiative director Matt Kauffman explains how we gathered our GPS satellite collar data and shared it with the public, with highlights from our March 13-18, 2016 capture operations across northwest Wyoming.
Mule Deer Migration Research Near Heart Mountain, WY
In 2016, capture crews with the Wyoming Cooperative Fish and Wildlife Research Unit and Wyoming Game and Fish placed GPS tracking collars on mule deer near Heart Mountain in Park County, Wyoming. The snowy conditions hampered visibility for the helicopter crew, but deer were lively as they ran back into the storm. Animals from this herd migrate each spring into the Absaroka Range and Yellowstone National Park. See the results from this tracking study here  >
"All This Can Coexist" — Mule deer migration on the edge of Greater Yellowstone
The historic Pitchfork Ranch on the edge of Greater Yellowstone is winter home to migrating elk and mule deer. With deer numbers down, rancher Lenox Baker and Wyoming Game and Fish biologist Bart Kroger discuss how migration research and wildlife-friendly fencing can help deer bounce back.
Pilgrimage to Yellowstone: Sacred and Secular Interpretations of Nature
Matthew Kauffman is director of the Wyoming Migration Initiative, director of the Wyoming Cooperative Game and Fish Research Unit, and an Associate Professor of Zoology and Physiology at University of Wyoming. He presented Pilgrimage to Yellowstone: Sacred and Secular Interpretations of Nature to lifelong-learners during the Fall 2014 Saturday University. The event took place at the National Museum of Wildlife Art in Jackson, WY on October 11, 2014.
Wyoming's Big Game Migrations and 50 Years of Wilderness
This year marks the 50th anniversary of the Wilderness Act. To commemorate this act, WMI researchers examined how wilderness areas are used by Wyoming's migratory ungulates. Typically, wilderness areas are located in the high elevation summer ranges of Wyoming's migratory ungulates. These areas provide bountiful forage from summer through fall, affording animals with enough food to sustain them through the lean winters. This work shows the importance of wilderness areas for ungulates whose migrations often span multiple-use landscapes. While wilderness alone is not sufficient to conserve entire migratory routes, it is an important piece of conserving the long distance migrations of Wyoming's ungulates.
The Red Desert to Hoback Mule Deer Video
Recently, the longest mule deer migration ever recorded was discovered where thousands of deer migrate 150 miles from winter ranges in the Red Desert to summer ranges in the mountains of northwest Wyoming. This 300-mile roundtrip journey leads mule deer through a variety of habitat types and anthropogenic obstacles, including highways, fences, and river crossings. Wildlife biologist Hall Sawyer works with National Geographic photographer Joe Riis to raise awareness of this spectacular migration and highlight the challenges with conserving migration routes outside of national parks.
Wyoming Range Deer Study Continues
A three-year study of mule deer on the Wyoming Range of western Wyoming resumed in December with the eventual goal to help researchers understand why populations of mule deer there are not reaching population goals. The study is part of the Wyoming Mule Deer Initiative, a joint effort between the Wyoming Game & Fish Department and the public to address declining mule deer numbers in Wyoming.
Pinedale Anticline Mule Deer Study
A collaborative study involving the Wyoming Cooperative Fish and Wildlife Unit, Western Ecosystems Technology and Wyoming Game and Fish Department and Bureau of Land Management is taking a look at what effect drought, severe winters and development activity is having on mule deer nutrition, reproduction and survival on the Pinedale Anticline of western Wyoming.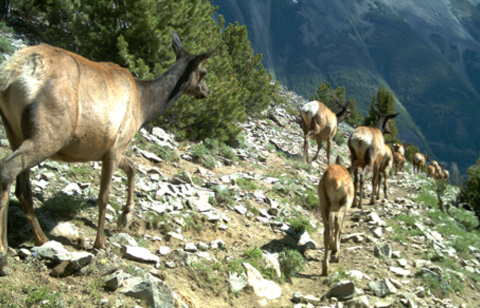 Researchers Map Migration Routes With An Eye To Protecting Wildlife
Wyoming has some of the longest wildlife migration routes in the U.S. Animals travel in some cases over 100 miles from summer ranges to winter habitats. Protecting the migration routes is important for maintaining healthy populations. But land managers and other decision makers often don't actually know where the animals travel. Now, scientists are tracking their routes.


View Full Article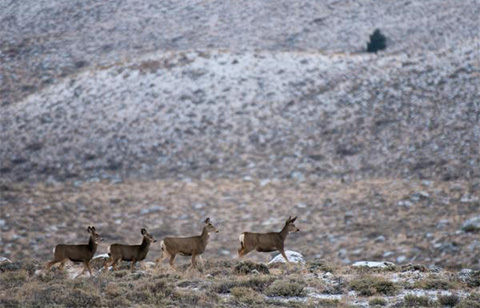 Research reveals mule deer rest stops are more telling than the journey
Protecting pronghorn migration routes is a big deal in Wyoming. The same goes for mule deer. But making sure the animals have unimpeded routes between their summer and winter ranges is only part of the puzzle. Recent research shows that it's even more important to protect the places where the animals stop along the way. I spoke with Matt Kauffman, who heads the Wyoming Cooperative Fish and Wildlife Research Unit, to find out more about the studies that have been done. Kauffman says he and his colleague Hall Sawyer discovered some surprising things about mule deer migration.