In response to ongoing requests from K-12 educators and teacher professional development groups at the University of Wyoming, the WMI team has offered numerous workshops and resources for educational use. Now, we are putting these resources online. Our goal is to empower teachers by making WMI's expertise and public-facing educational materials accessible.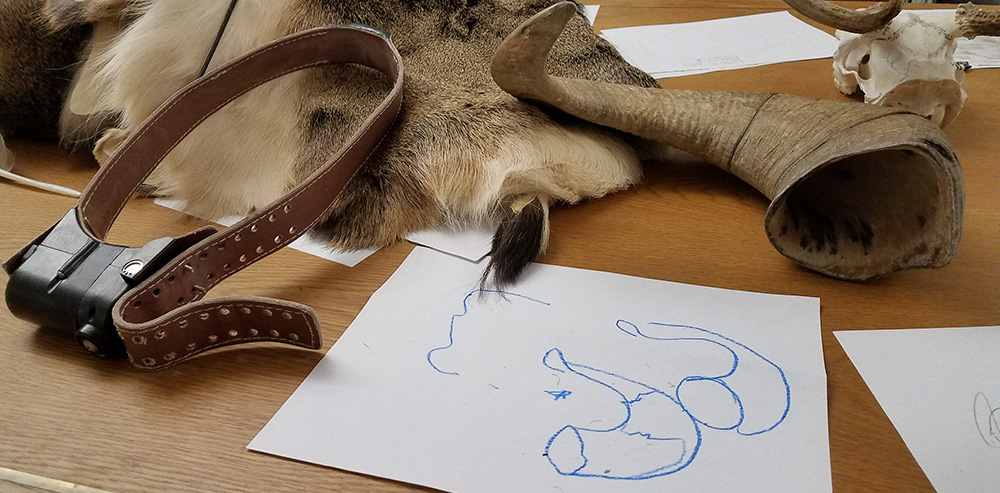 Wild Migrations Atlas:
The book you should consult when thinking about how to teach ecological lessons in your classroom is Wild Migrations: Atlas of Wyoming's Ungulates There is a copy of Wild Migrations in every community library and middle and high school library in Wyoming. We invite teachers to explore the atlas for examples of how science and the humanities explain the migration corridors and wildlife that are so important to our state's culture. Most of our lessons and activities detailed below reference the Wild Migrations atlas. View atlas >
Flickr Page:
Our photographers have created a series of photo albums that capture the landscapes and the migrating animals that inhabit them. View photos >
Social Media Channels:
The Wyoming Migration Initiative is active on Facebook, Instagram, and Twitter, though this content is geared toward adults and the general public, rather than K-12 students.
Research Summaries:
Accessible summaries of research publications by WMI scientists can be used as an introduction to the publications themselves, or part of reading assignments connecting with other learning resources. Explore research >
YouTube Channel:
Our research scientists have created a series of videos and playlists exploring migration science. These materials share the stories of wildlife encountering Interstate 80, the longest-documented mule deer migration in the world (Deer 255), elk migration in the Greater Yellowstone Ecosystem, and more. View the channel >
Western Migrations Viewer:
This web viewer that WMI scientists contributed to can be used to teach lessons about big game herds across the American West. The migration viewer is an online platform where you can interact with migrations and even download data. There is also a report that details each migrating herd.
Global Migrations:
Separate channels for the new Global Initiative on Ungulate Migration, which the Wyoming Migration Initiative participates in, are available at: @migratinghooves on Facebook and Twitter, and, with more information on the GIUM website.
Wild Migrations Atlas and its associated web-database is a resource unlike any that I have ever used. It's focus on Wyoming, our 2 National Parks and our most important resource – wildlife is stunning and engaging. Initially, I learned of the Wyoming Migration Initiative through photographer Joe Riis' research on the migration corridors of Yellowstone. He and a past student of mine, Emilene Ostlind, were frontrunners in the effort to understand migration and protect important migration corridors. I have proudly shared this information with my students here at Big Horn High School and with our community at large. There are so many aspects to this work that a student could get interested in; GIS, technology, wildlife conservation, history, archeology, nutrition, social engineering, communication, hunting, art, and the list goes on. If you are looking to integrate a place-based, multi-disciplinary unit into a science class (or any class for that matter) – this is a perfect initiative.
– Mila Stender, Big Horn School
Wild Migrations Atlas was an amazing resource for my 4th and 5th graders as they explored the ecological connections within our area. While my students are uniquely situated with classroom windows that view many of these migratory pathways through Grand Teton National Park, Wild Migrations grounded student observations in the science they needed to understand the ecological causations and implications of migration. Students used graphs and data from Wild Migrations to build simple ecological stories of the life cycles and needs of our local ungulates. This exercise not only contributed to building a stronger ecological literacy for my students, but also helped bring a level of authenticity and excitement to their work.
– Lisa Lowenfels, Kelly School
If you are a teacher and would like to share your feedback on these activities or a testimonial, please email info@migrationinitiative.org