Wyoming Migration Initiative Photography Fellow Joe Riis and WMI Research Associate Arthur Middleton launched their exhibit: INVISIBLE BOUNDARIES: EXPLORING YELLOWSTONE'S GREAT ANIMAL MIGRATIONS with a public talk at National Geographic Headquarters in Washington D.C. on April 28, 2016.
The exhibit features photographs by Joe Riis, art by James Prosek, film by Jenny Nichols, and an interactive animation of Yellowstone migrations projected on a 3-D relief map. We at WMI are happy to have contributed to many of the maps in the exhibit, and also to panels highlighting conservation challenges and successes for migrating mule deer and pronghorn in western Wyoming.
After a short reception Joe and Arthur gave a keynote program, with comments by the CEO of National Geographic Gary Knell, Yellowstone National Park Superintendent Dan Wenk, and journalist David Quammen, who wrote the entire May issue of National Geographic magazine on Yellowstone. National Geographic Magazine Editor Susan Goldberg moderated a panel of the speakers after the keynote.
The audience included a large contingent of supporters from Cody, Laramie, Lander, Jackson, and U.S. Rep. Cynthia Lummis. There were several moments of spontaneous applause during the talk, which ended with a standing ovation. Congratulations to Joe Riis, Arthur Middleton and the whole team on sharing Wyoming's incredible migration stories to world audiences.
Exhibit partners:
National Geographic
Wyoming Migration Initiative
Buffalo Bill Center of the West
Yale School of Forestry & Environmental Studies
***If you're interested in seeing the exhibit but can't get to Washington D.C., a mirrored exhibit will open at the Draper Natural History Museum at the Buffalo Bill Center of the West in Cody, Wyoming in June, 2016.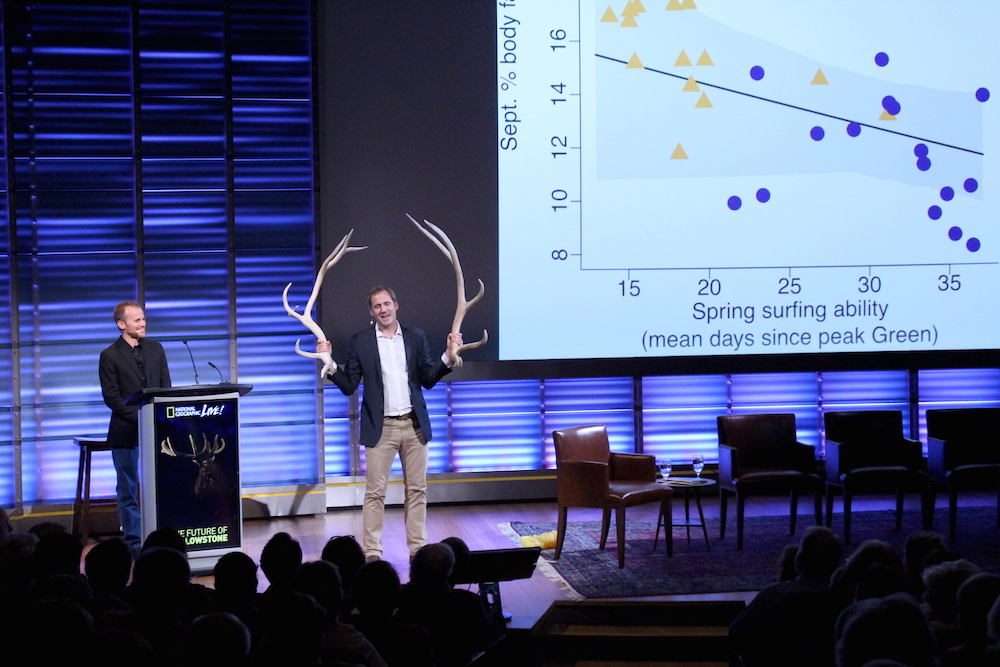 WMI Research Associate Arthur Middleton shows a pair of elk antlers at a National Geographic Live! event on "The Future of Yellowstone." Middleton described how migration allows elk to access better forage at high elevations, which increases body fat and helps support physiological processes like growing antlers.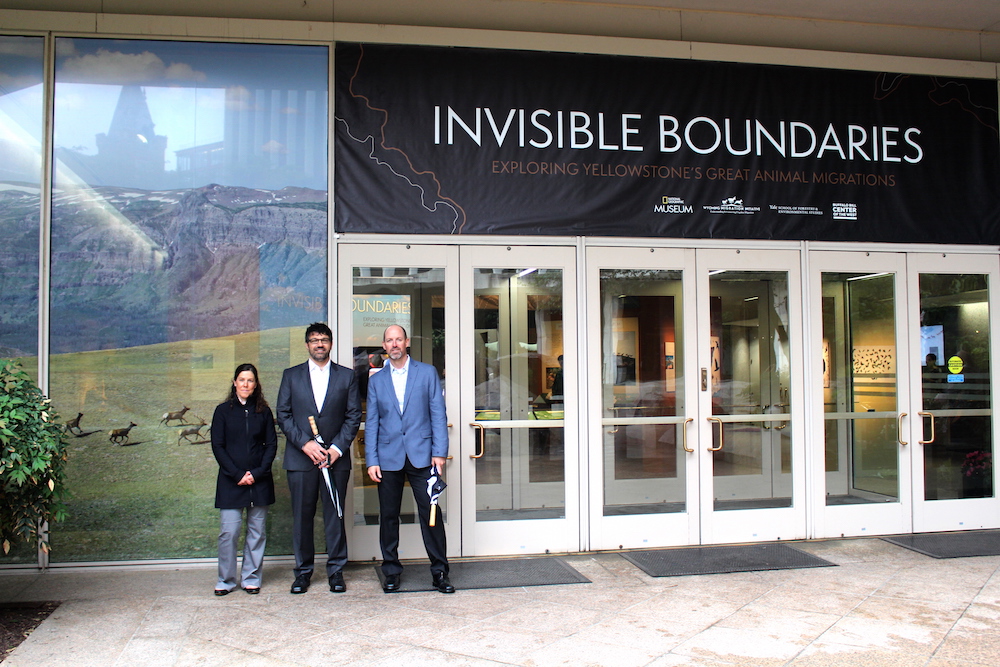 WMI co-sponsored the "Invisible Boundaries" exhibit with National Geographic, Yale School of Forestry and Environmental Studies, and the Buffalo Bill Center of the West. From left to right are Wyoming Nature Conservancy ecologist Holly Copeland, WMI director Matthew Kauffman and WMI Research Associate Hall Sawyer.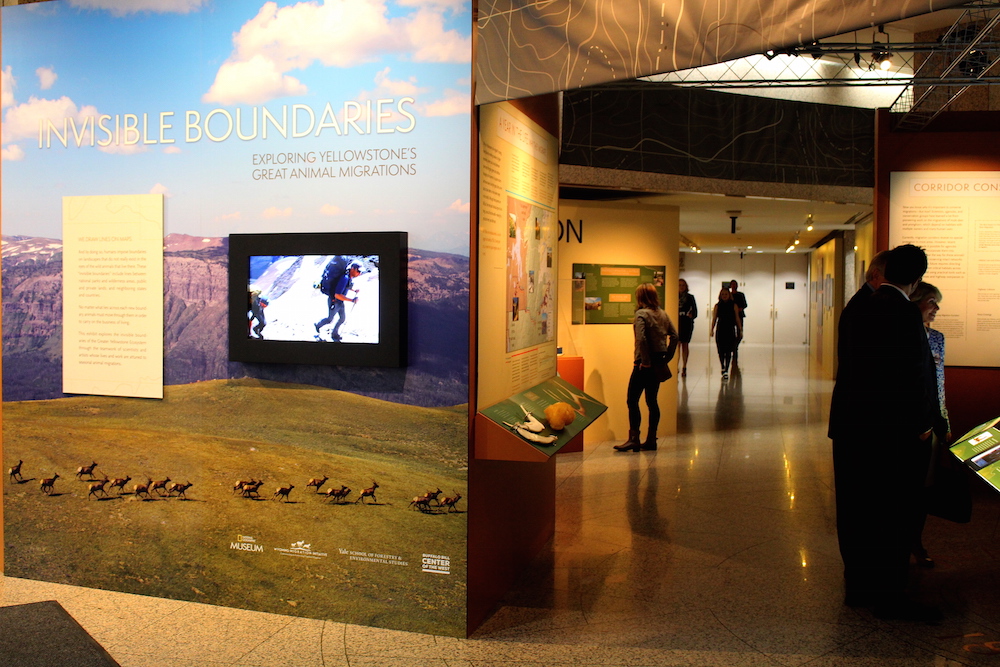 The entrance to the National Geographic exhibit INVISIBLE BOUNDARIES: EXPLORING YELLOWSTONE'S GREAT ANIMAL MIGRATIONS.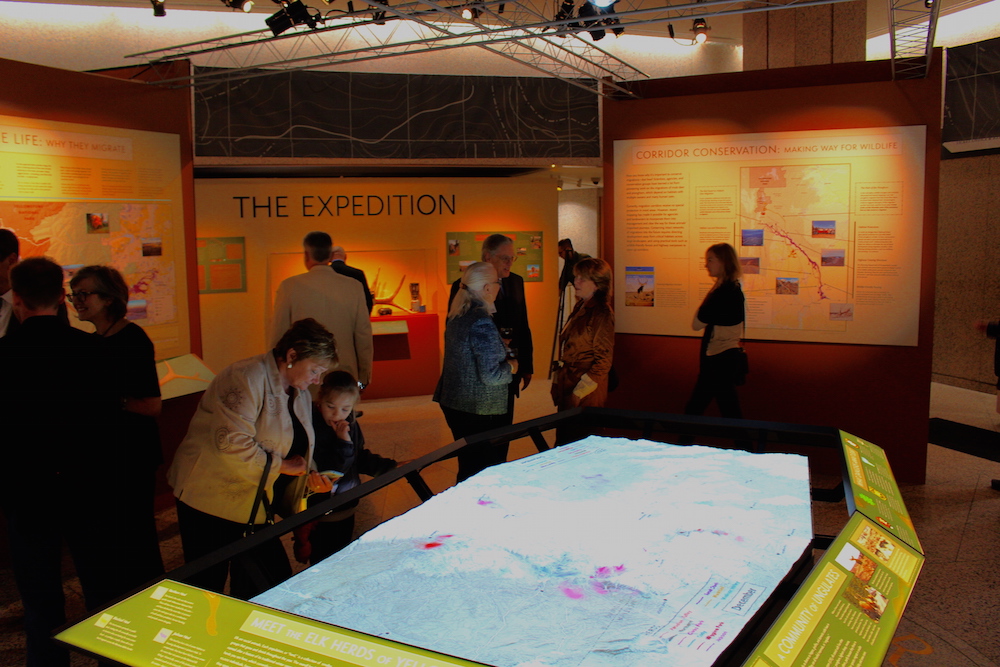 The core of the exhibit features an interactive, animated map of elk migration routes projected on a 3-D landscape of Greater Yellowstone Ecosystem.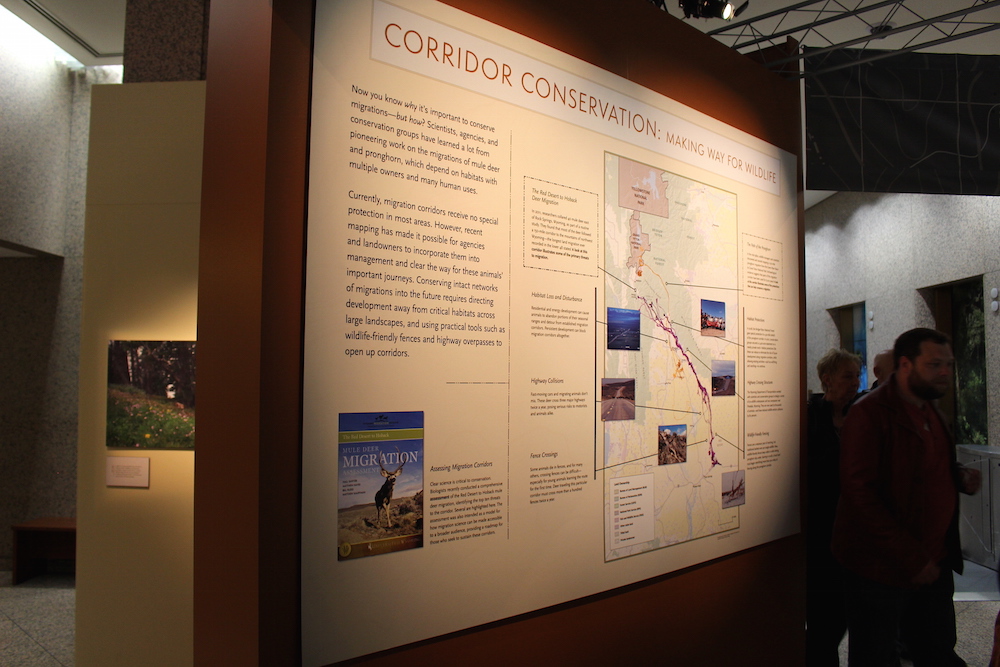 The Wyoming Migration Initiative's Red Desert to Hoback Mule Deer Migration Assessment and map from 2014, at lower left, was featured in a panel on science and conservation.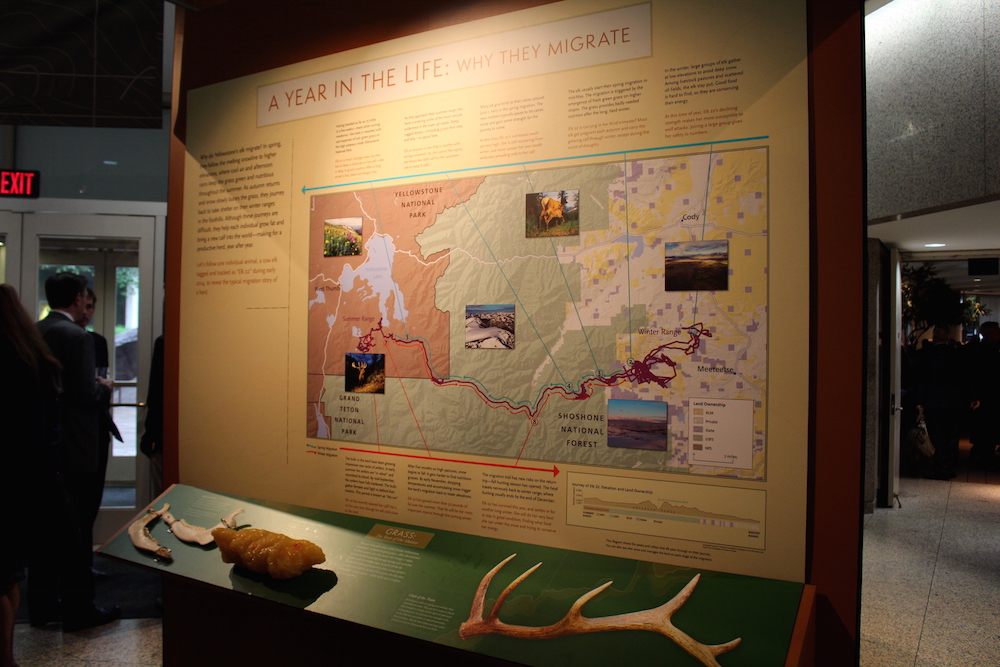 Arthur Middleton and Joe Riis tracked elk in the Cody herd to provide the majority of the content in the exhibit. The herd moves from Meeteetse to the Thorofare each spring and fall.
Journalist David Quammen shows a Joe Riis photo of elk on the Thorofare Plateau that appeared in the May 2016 issue of National Geographic.
For more photos of the exhibit launch, click here.